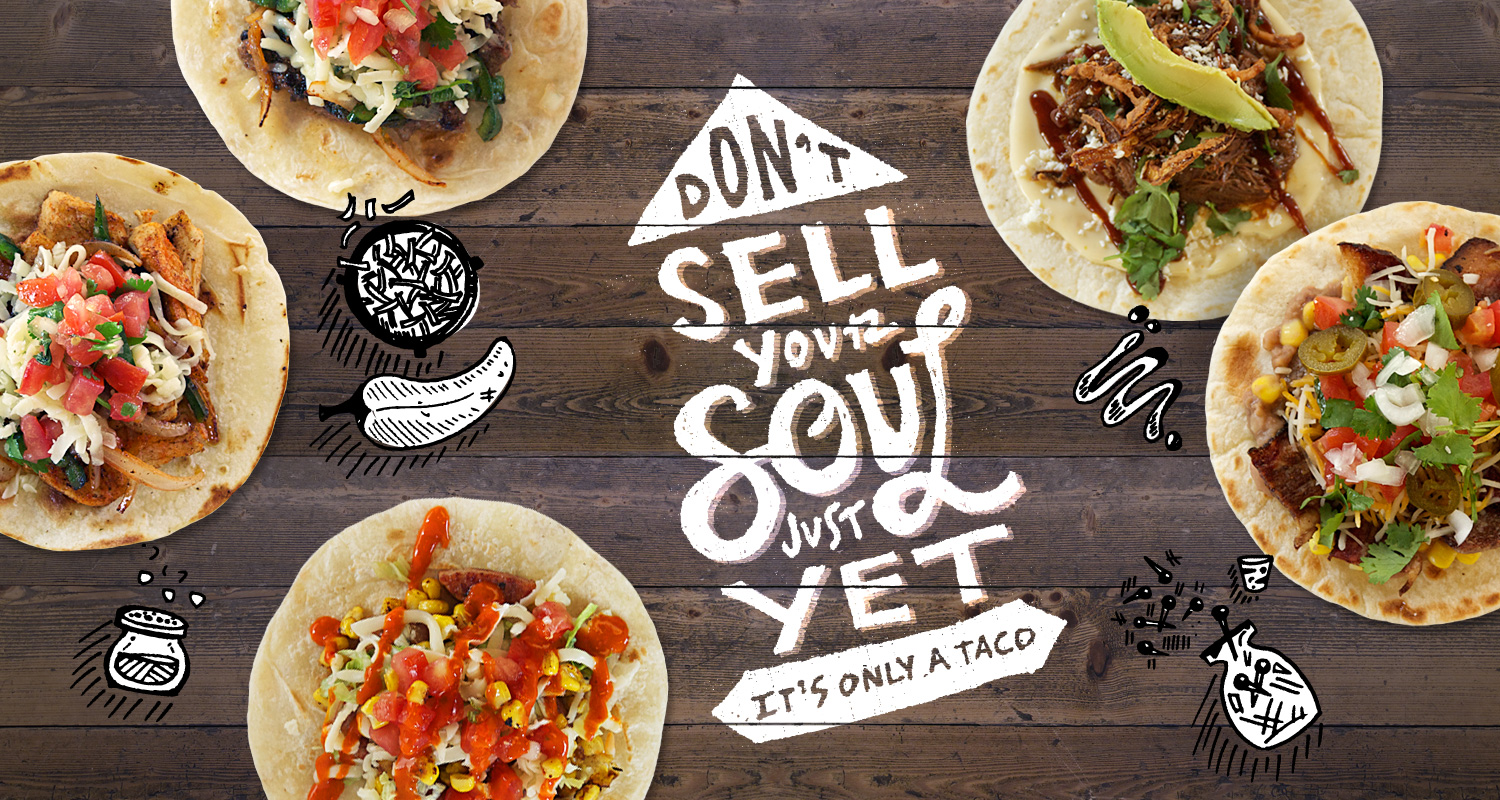 The Bulgogi
Korean bbq beef // Nappa cabbage // Shredded carrots // Diced cucumber // Diced onion // Cilantro // Fresh basil // Peanut sauce
$

4.45
Barbacoa Beef
Slow-cooked shredded beef // Spicy BBQ sauce // Avocado // Cajun fried onions // Cotija cheese // Queso // Cilantro
$

3.85 /

$

4.15
Chicken / Steak Fajita
Poblano peppers & onions // Asadero cheese // Pico
NORTEÑO STYLE — Add $.75: Refried beans // Avocado // Jalapeños
DARTH STYLE — Add $.75: HOT! Ghost Chili Marinade
$

4.55
Smoked Brisket
Slow-smoked beef // Refried beans // Jalapeños // Chopped onions // Cheddar cheese // Pico // Cilantro
$

3.85
Green Ghost Pork
HOT! Ghost-chili-braised, shredded pork // Green chiles // Diced onions // Asadero cheese
$

3.85
Pork Carnitas
Slow-simmered shredded pork // Asadero cheese // Napa cabbage // Chopped onion // Cilantro // Lime wedge
$

3.35
Fried Avocado
Deep-fried avocado in cajun tempura // Escabeche carrots // Napa cabbage // Cotija cheese // Pico VEGAN=No cheese
$

4.35
Alligator
Smoked alligator sausage // Peri peri churrasco // Lettuce // Asadero cheese // Pico // Corn
$

3.85
Fried Chicken
Crispy chicken // Cheddar cheese // Corn // Lettuce // Pico de gallo
DIRTY BIRD STYLE — Add $.50: Queso // Bacon // Onions // Chipotle Ranch // NO lettuce
$

4.65
Baja Shrimp
Fried shrimp // Napa cabbage // Asadero cheese // Sriracha aioli // Sliced avocado // Cilantro // Lime
$

4.75
Mahi Taco
Grilled & blackened mahi mahi // Napa cabbage // Cotija cheese // Cilantro // Pico
$

4.75
Grilled Shrimp
Grilled shrimp // Pineapple salsa // Nappa cabbage // Mango-lime sauce // Avocado // Cilantro // Pico
$

2.65
Breakfast
Cajun scrambled eggs // Cheddar cheese // Potatoes // Salsa // CHOOSE: bacon, brisket, chorizo or bean
$

7.60 /

$

7.85
Chicken/Steak Fajita
Black or refried beans // Rice // Cilantro // Asadero cheese // Poblano peppers & onions // Pico // Warm tortillas
$

7.35
Veggie
Black or refried beans // Rice // Napa cabbage // Poblano peppers & onions // Asadero cheese // Diced onions // Confetti corn // Pico // Guacamole // Cilantro // Warm tortillas
$

8.15
Shrimp
Citrus-poached shrimp // Crisp lettuce // Escabeche carrots // Cucumbers // Pico // Avocado // Lime vinaigrette
$

7.65
BLT
Tempura fried bacon // Crisp lettuce // Diced onions // Pico // Avocado // Jalapeño ranch
$

7.90
Cajun Chicken
Cajun chicken // Crisp lettuce // Poblano peppers & onions // Confetti corn // Chip strips // Asadero cheese // Cilantro // Avocado crema
$

8.15
Blackened Chicken
Blackened chicken // Black beans // Queso // Poblano peppers & onions // Cheddar jack // Pico // Confetti corn // Cilantro // Lime
$

8.65
BBQ Pork
Pulled pork // Spicy BBQ sauce // Refried beans // Queso // Diced onions // Pico // Fried banana peppers
$

5.50
Chips & Guac
WICKED STYLE — Add $1 : Bacon // Blue Cheese // Sage
$

3.55
Pinheads
Fried corn on cob // Cotija cheese // Ancho Chili Powder // Sriracha aioli
$

3.00
Cheesecake Taco
CHOOSE: Chocolate or strawberry sauce
$

2.85
Beignets
CHOOSE: Chocolate or strawberry sauce
$

2.75
PB Banana
Corn flake crusted, deep-fried tortilla // Creamy peanut butter // Bananas // Served with strawberry jam
$

2.75
Spaghetti Taco
Tortilla filled with Spaghetti // Marinara // Topped with Cheddar Cheese
$

3.25
Chicken Taco
Fried chicken taco // Topped with queso // Lettuce // Roasted corn
$

2.00
Bean & Cheese
Soft tortilla // Cheddar cheese // Refried beans
$

2.00
Smash Taco
Soft tortilla // Cheddar cheese // Smashed on the grill
$

3.25
Chicken Fingers
Hand breaded chicken // Potato wedges // Sauce
Fire-Roasted Tomato
A mild blend of fire-roasted
tomatoes and peppers.
Chipotle Ranch
Ranch dressing blended with
dry-roasted chipotle peppers
Tomatillo
Fire-roasted tomatillos,
roasted garlic and ancho chiles.
Aleppo
A sweet, peppery sauce made
from a zesty Syrian pepper.
Dona
A creamy blend of roasted
jalapeños and garlic.
Habanero Lightning
Louisiana-style with habaneros, ghost chiles and trinidad scorpion pepper.